Easy grip on your health in diabetes type 1 with SugarPal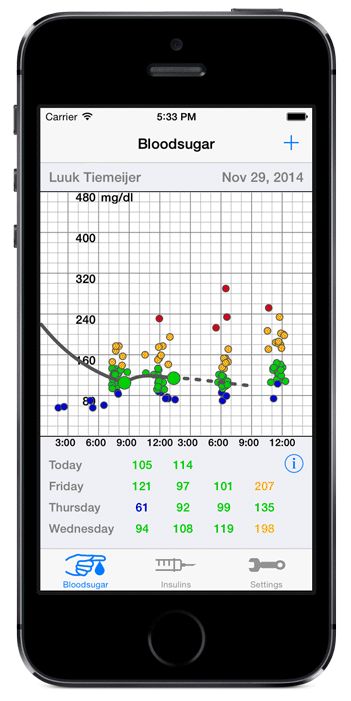 Complicated and annoying to determine your insulin needs? Irregular blood sugar values or frequent hypoglycemia?
SugarPal Diabetes Manager makes it easy to keep your blood sugar constant. Enter your values and this self-learning iPhone app calculates the correct insulin dose based on your personal blood sugar trends.
Recommended if you do not use an insulin pump, and are willing to evaluate a smartphone based bolus calculator.
Benefits
avoid diabetes complications by keeping your HbA1c low
get less hypoglycemia by careful dose calculations
easily adjust your dose when you exercise
get a clear overview of your daily and long-term trends in blood sugar levels and insulin doses, for yourself or for your doctor
For who?
diabetics who use insulin pens, eat at reasonably regular times, follow a 3+1 times daily bolus basal regimen like me, and are willing to check their blood sugar at least 4x a day
Features
saves all your blood sugar levels and insulin doses
converts these into clear graphs that you can share with your doctor
works with its own, highly accurate glycemic control method
works with either mmol/l or mg/dl glucose units
always available - Wi-Fi or 4G is not required
respects your privacy - your data is stored on your own device only
easy-to-use
Important
the benefits of automatic bolus calculators have been scientifically proven
nevertheless, read through the Support and FAQ sections and check out the disclaimer before buying the application
consult your doctor first if you are not sure whether this application will be beneficial for you